In this part of our biography podcast, find out about why people set sail in the 15th century. Listen to the biography of Christopher Columbus now.
Summary of this episode
Christopher Colombus' early life
Christopher Columbus' father, Domenico Colombo, was born in a port city in Italy in 1418. He worked multiple jobs, like being a wool weaver, cheesemaker, wine dealer, and tavern keeper. In 1445, he married a woman called Susanna Fontanarossa. The first of their five children, Christophoro Colombo, was born in 1451. 
Christopher Columbus' early life is not well-documented. So, we don't know much about his childhood. But we do know that he set sail at the age of ten. He sailed for fifteen years until his ship sank. Christopher, however, managed to reach Lisbon, a port city in Portugal. 
Portugal turned out to be a turning point for him because he learned several languages there. Then, he joined Prince Henry's School of Navigation to study navigation (According to Citation 1). He also got married in Portugal.
Portuguese explorers sail east to reach the Indies
At the time Christopher Columbus lived, people were scared of sailing because many ships sank into the sea. People held various superstitious beliefs as to why these ships sank. But two technological inventions of the 15th century and the sponsors from Prince Henry of Portugal encouraged many people to abandon their illogical fears and start sailing. The primary goal of all these sailors was only one thing - to find a sea route to the Indies. The Indies was the name the Europeans had given to the spice islands of Asia (including India and China). They also had two secondary goals - to loot the gold and silver from the unknown lands they discovered and spread Christianity. 
Under the sponsor of Prince Henry, these Portuguese explorers sailed along the West coast of Africa to reach Asia. But until the late 1480s, they didn't reach the southern tip of Africa. (As we know today), reaching Asia would still take a long time. A map of the route taken by these explorers and their progress can be seen below:
Columbus sails west to reach the Indies
People at that time already knew that the earth was spherical. So, they knew that they could reach the Indies by sailing West. But most people thought that it would take significantly longer to do so when compared to sailing East. But Christopher Columbus believed the opposite. He believed that sailing West would be faster. The map of the Atlantic ocean, which he received in 1481, confirmed his beliefs. You can find a copy of the map is attached below. Note that the map almost completely leaves out the American continent because people at that time did not know the existence of such a continent.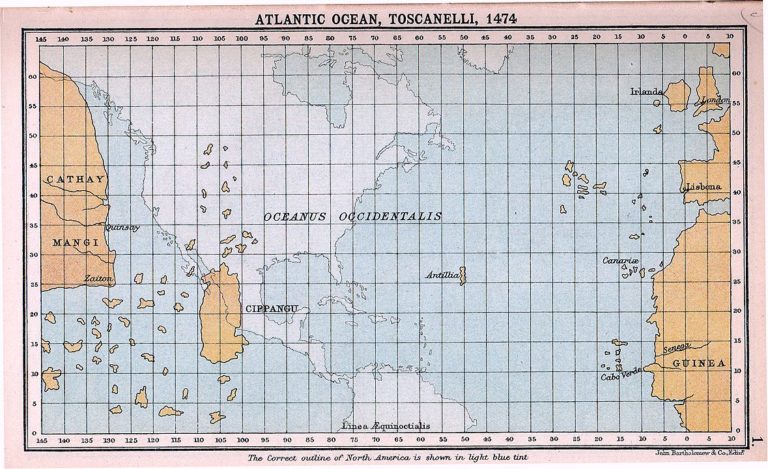 So, in 1484, Christopher Columbus, who also wanted to get rich by finding a route to the Indies (According to Citation 2), met Portugal's king to propose sailing West. But the Portuguese king rejected his proposal because his experts warned him that Christopher Columbus had wrongly calculated the distance to the Indies. 
So, Christopher Columbus met Castille's queen Isabella I, to ask for help. At that time, Isabella I was ruling almost the entirety of present-day Spain, along with her husband, King Ferdinand II of Aragon. Castille had previously lost a naval battle against Portugal. Since then, Portugal started dominating the waters near Africa. So, sailing East to the Indies meant that Castille had to fight another naval battle against Portugal and win it. So, to avoid this situation, Isabella I decided to sponsor Christopher Columbus, even though her experts warned her that Christopher Columbus had falsely estimated the distance to the Indies. 
Therefore, in 1492, after making a lucrative deal with Isabella I, Christopher Columbus set sail Westward. After sailing for five weeks, he reached the Bahamas. 
What happened after that? Find out in our next episode.
You can also read our detailed blog post here - History of Christopher Columbus. If the link doesn't work, copy and paste this URL into your browser - https://wisuru.com/biography/history-of-christopher-columbus/
Citations:
Images

Map indicating the voyages of other (Portuguese) explorers - Portuguese Discoveries 1415 AD to 1543 AD - By Descobrimentos_e_explorações_portugueses.png: *Portuguese_discoveries_and_explorations.png: *Portuguese_Empire_map.jpg: Toklederivative work: Uxbona (talk) - Descobrimentos_e_explorações_portugueses.png, CC BY-SA 3.0, Link
The Map that Columbus got from Toscanelli - Toscanelli's map of the Atlantic Ocean (shown superimposed on a modern map) - By Bartholomew, J. G. - A literary and historical atlas of America, by Bartholomew, J. G. [1], Link
Donation link
Do you like our work and want to donate to us? You can do so by using this Patreon link: https://www.patreon.com/wisuru
Contact me

Have some suggestions to share with me? Just tweet to me using our Twitter link: https://twitter.com/WisuruBiography