In this week's episode, we take a look at how Charles Darwin began his journey, which eventually led to the formulation of his theory of Evolution. We also take a look at the theories of evolution that existed before Charles Darwin's time.
Read our blog post
Would you rather read about his biography? Click here: Charles Darwin. If the link doesn't work, copy and paste this URL into your browser - https://wisuru.com/biography/charles-darwin/
Summary
Cambridge University
When Charles Darwin returned home without finishing his medical degree, his father was disappointed. He thought that if medicine did not interest Darwin, he should become a parson [Citation1]. So, he sent Darwin to Cambridge University, so that he could do a BA degree and become a parson.
But in Cambridge University, too, Darwin spent most of his time pursuing his hobbies. His most important hobby was collecting beetles, which was a big craze at that time. But besides that, he also loved riding horses and shooting.
But besides spending a lot of time on his hobbies, he disregarded them and started studying whenever exams neared. Therefore, he could pass his BA degree on time.
During his time at Cambridge University, he came to like the classes of his botany professor, Revd. John Stevens Henslow. Henslow would eventually become Darwin's mentor.
Desire to travel
After his final exams were over, Darwin read several books. One of these books was the personal narrative of a German explorer called Alexander von Humboldt. Humbolt had spent five years traveling extensively on the American continent. He then described his travel from a scientific point of view. After reading this book, Darwin decided to travel the world, and contribute to science.
The place he chose for this purpose was the Canary Islands in the Atlantic Ocean. But his trip got postponed for a year. So, he got sad.
But his botany professor Henslow recommended him for an expedition which was arranged by the geologist Adam Sedgwick. So, Sedgwick took Darwin with him to the expedition in Wales, England. The expedition lasted two weeks. After he returned home from the expedition, he found a letter addressed to him.
The Voyage that changed everything
At the recommendation of Darwin's botany professor Henslow, the captain of the ship called HMS Beagle decided to take Darwin on his voyage. HMS Beagle was preparing for its second voyage to South America to survey the land and water bodies there. The ship needed someone to investigate the geology of these areas. This is the position that Darwin was supposed to fill in. The ship and its crew, along with Darwin, set sail in 1831. Darwin was just 22 years old at that time.
The 5-year-voyage (A map of this voyage is attached below) turned out to be a boon for Darwin. He visited four continents and collected countless samples of the plants, animals, birds, and fossils there.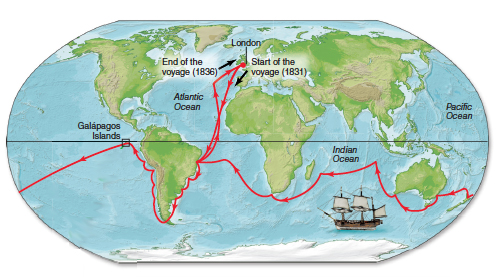 After he returned to England, he gave these samples to zoologists, so that they could examine them. Darwin's natural history collections proved extremely useful.
Darwin started publishing the reports of the analysis of the samples, provided by the zoologists, as a book called 'Zoology of the Voyage of HMS Beagle.' He even got a grant of £1,000 for publishing these books. Darwin planned to publish several volumes of this book.
His voyage, the samples he had collected during the voyage, and the reports of these samples provided by zoologists helped him understand a lot about evolution. So, he started working on formulating a theory about evolution.
Darwin worked too hard to finish his books, as well as formulate his own theory of evolution at the same time. But due to the resulting stress, he got sick and was bedridden. He started trembling and vomiting, suffered from stomach pain, and severe boils started appearing on his body. Even though he got better with time, these symptoms reoccurred again and again in his life, whenever he got overstressed. His disease was never diagnosed or cured.
Evolution theories before Darwin's time
Even before Darwin proposed his theory of evolution, there were two theories of evolution that were famous. But they had a lot of opposition. 
The first of these theories was the 'Theory of Acquired Characteristics' or 'Lamarckism.' It was proposed by Jean-Baptiste Lamarck [Citation2], a French zoologist. He proposed, that when environments change, organisms change their behavior, and as a result, the organs of these organisms change as well. These organisms then pass on these changes to their offspring. 
The second theory was proposed by none other than Charles Darwin's paternal grandfather, Erasmus Darwin. In his book called 'Zooomia,' [Citation3] Erasmus argues that all organisms undergo changes constantly, which their offspring inherit from them.
Citations
Resources
A map of the second voyage of HMS Beagle - https://www.chegg.com/homework-help/questions-and-answers/ones-could-charles-darwin-seen-voyage-hms-beagle-1830s-could-supported-theory-evolution-se-q9257813
Donation link
Do you like our work and want to donate to us? You can do so by using this Patreon link: https://www.patreon.com/wisuru
Contact me
Have some suggestions to share with us? Just tweet to us using our Twitter link: https://twitter.com/WisuruBiography